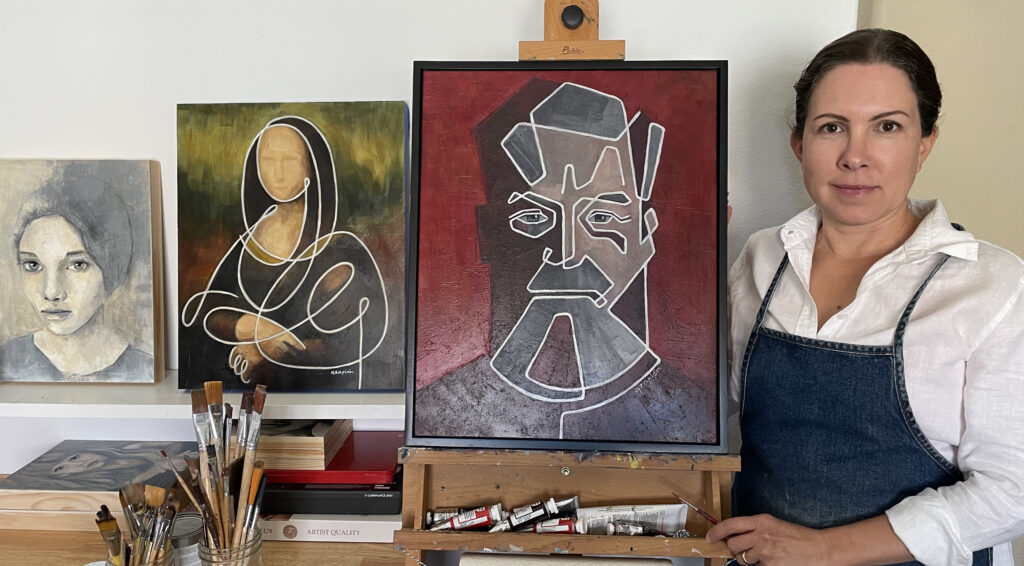 Read my interview in Shoutout Colorado
 

A Passion for Portraits
Hours spent drawing as a child gave way to a formal education and career in graphic design. Gaby Zapien's passion is now reflected in her striking portrait paintings.
THE SERIES
In 2002, Gaby created the first illustration in what would become her signature "Lifelines" series: portraits characterized by close-ups of faces, bright colors and heavy lines following the most prominent features.
PROCESS
First beginning with sketches — often three or more for a face — Gaby then combines the most interesting lines. She discards all details and focuses on the few lines that make the character, expression or mood recognizable.
EVOLUTION
The heavy lines have been a constant in her portraits, although the color palette and technique have evolved. Originally working with colored pencils, Gaby has experimented with a variety of media. Most recently, she has been testing the limits of digital painting as well as oil and cold wax.
INSPIRATION
The artist's subjects are inspired by public figures and personalities, family and friends, and interesting faces she discovers. Originally from Guadalajara, Mexico, Gaby now paints from her home in Littleton, Colorado.